Probably the best thing about Mac and iOS is the fact that they are more stable and less prone to security threats. Having said that, one annoying pop-up can make your life miserable, and it can happen in Safari as well. These pop-ups can be so annoying that you may find yourself helpless – not being able to close the tab/pop-up and sometimes not being able to use your device at all.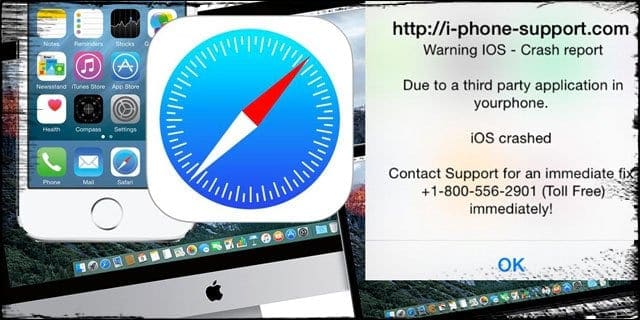 The reason why these popups are so annoying is that they would just reappear no matter where you click. Even if you shut down Safari and reopen it, they will usually be there to greet you again.
Related Articles
Don't Believe What You Read
The pop-ups can be a phishing method. They might say they are from Apple or any other trusted company to get your personal information out. They can even trick you by saying that there is some problem with your system. In all such cases, it is highly advisable to contact Apple or follow these preventive measures.
A Word of Caution
Don't use any kind of "anti-virus" or "anti-malware" applications on your Mac or your iDevices (iPhones, iPads.) There is no need for these apps on Apple products. Additionally, relying on these kinds of products for protection actually makes you more vulnerable to attack not less.
Remember, these web pages are scams that impact Safari (the browser) and are temporary–when you close Safari, they close too.
How to Close Annoying Safari Pop-Up Scams on iOS
If you're still using an older version of iOS (earlier than 9.3), you might see a block alert button after dismissing the unwanted pop-up. Click on it to stop receiving pop-ups from this particular web page.
If this doesn't work, you will have to go for forcefully shutting down Safari. To do this, double-click the home button. This will bring up all the apps that you have recently opened. Select Safari from the list and slide it up to close.
Once you have shut down Safari on your iPhone or iPad, make sure to clean your Safari cache and history. To clean up your Safari cache on your iPhone or iPad, Tap on Settings > Safari. Scroll down to the Settings and choose Clear History and Website Data. Confirm the action.
If you're on iOS 9.3 or later you can use content blockers. These are third-party apps that let Safari block pop-ups and other things like cookies, images, etc. Just download any relevant (content blocking) app from App Store. Now open Settings, then Safari and Content Blocker – choose the settings that you want. You can also use more than one such app.
On iOS 10 and later, make sure to turn on the Block Pop-ups option on your Safari Settings. Tap on Settings >Safari and scroll down to the General area.Here you can enable the function for Block Pop-Ups.
How to Close Annoying Safari Pop-Up Scams on Mac
If you have Safari 9.1 or above follow these steps:
First, close the unwanted pop-up. Sometimes, the pop-up would just not go – try to close the relevant tab or if that doesn't help close the Safari window and open again after a couple of minutes.
If you have Safari 9, the pop-up will probably come with a checkbox "Don't show more alerts from this web page" – click on it before closing the pop-up window.
Otherwise, close the popup by pressing the key combination Command+W to close the tab or window. A huge box pops up. Press the return key and both the box and the page should close. If that doesn't happen, press and hold Command+W. You might hear repeating alert sounds. While holding these keys, click the OK button in the popup. If a different popup appears, cancel as usual.
In case it still doesn't close, the last resort would be to quit Safari forcefully. Press Command, Option, Esc – select Safari from a window that appears. Click "Force Quit." Try reopening the app while holding the Shift key and you will be good to go.
The new Safari installs also feature the option to Block Pop-Ups. Open your Safari browser. Next click on Safari > Safari Preferences > Choose the Security tab. Here you find the option to block pop-ups. Set it up, and that should definitely help with your browsing experience.
Under Cookies and Website Data, choose either Always Block or Allow from websites I visit
Under Website Use of Location Services, choose Deny without prompting or Prompt for each website once each day
Tick the box next to Ask Website Not to Track Me
Finally, let's remove website data. Make sure you close the malicious page before performing this next step.
On that same Privacy Tab, tap the button Manage Website Data. This lists all the websites that Safari is storing data. Either select Remove All or highlight individual sites and press Remove. A message may appear asking you to confirm removing website data, select Remove Now to confirm. When completed, press Done.
Extra Tips:
Update Your Software
There is a reason why software receives regular updates. They keep your operating system fresh and helps address security issues. Mac OS and iOS also receive regular updates, and it is strongly recommended that you keep an eye on those as they often contribute to improving your control over pop-up ads. Apple continuously applies security patches to both its iOS and macOS software. We recommend that you keep your device updated.
Remove Unnecessary Extensions
For the sake of caution, consider removing any unused or unknown extensions. This action is not required to eliminate any scam web pages but it might help you control what Safari does.Open Safari and from the top menu select Safari > Preferences > Extensions. Uninstall any Extensions that you do not use, know, or are not certain you need by clicking the Uninstall button.
If you are not sure what to uninstall, uninstall all of them. Extensions are NOT required for normal operations
Reader Tips
For the Mac, it's a good idea to create a simple HTML file with this content:<HTML><HEAD><TITLE>This is a default homepage</TITLE></HEAD><BODY>This is  a default homepage</BODY></HTML>Use TextEdit or similar text editing program and select File Menu > Save As. And save it as an HTML document.  Drag that document to Safari in your Dock or your Applications folder. Then, instead of opening the last page, it opens that text document.  You have to quickly close all other open windows by Option-Clicking the close window as soon as Safari opens.  This text document delays the launching of any malware site long enough, so you prevent it from opening the first place!
For further diagnosis of what ails your Mac, run EtreCheck and check out its report to see what's going on.